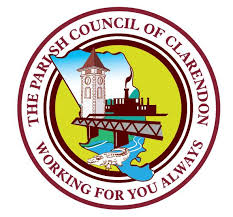 Clarendon Municipal Corporation
Sevens Road, May Pen P.O., Clarendon, Municipal Corporation
The parish of Clarendon was named in honour of the celebrated Lord Chancellor, Sir Edward Hyde, Earl of Clarendon. It is the third largest of the parishes, in terms of its population. Clarendon is bordered by the parish of St. Catherine to the east, Manchester to the west, St. Ann to the north and the Caribbean Sea to the south. There are five main rivers in Clarendon: the Rio Minho, Milk River, Pindar River, Cave River and Thomas River. The topography of the parish is generally low, except in the north and north-eastern parts.

The capital, May Pen, was established as a plantation settlement by the British between 1660-1683, on a crossing point of the Rio Minho. It is well located from an administrative point of view, in the centre of a largely agricultural area and as a midpoint between Kingston and Mandeville. Clarendon has prospered as a collecting and marketing point and is also well served by a network of roads. The parish has also prospered due to the development of many enterprises involving dry goods, confectionery and baked products.

Its collecting and marketing role in the centre of an agricultural region has solidly established May Pen as a commercial capital. Important areas are devoted to the cultivation of coconut and coffee, as well as banana plantations. The Trout Hall Factory which produces citrus juices and salt is the main food factory in Clarendon. Bauxite is mined in this area and the construction of the Alcoa Refinery at Halse Hall, five miles south of the town in the early 1970's also led to unprecedented growth in the parish.
Key Positions within the organisation:
Chairman - His worship the Mayor
Cllr.Winston Maragh

Deputy Chairman - Councillor Clive lee Mundle
Chief executive Officer - Mr. Rowhan Blake
Superintendent of Roads &
Works - Mr. Davian Byfield

Director of Finance - Mr. Wayne Brown
Director of Planning - Ms. Nickala Thompson
Director of Administration - Ms. Charmaine Williams
Disaster Coordinator - Miss Elanor Coombs