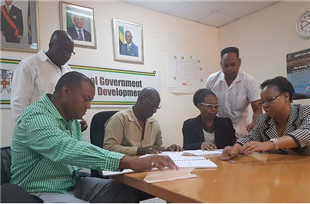 Contract signed for Port Maria Market
KINGSTON, Jamaica: A contract valued at $56 million dollars to upgrade the Port Maria Market in St. Mary was signed at the offices of the Ministry of Local Government and Community Development in Kingston on Thursday, April 5, 2018.
The upgrade forms phase one of a major rehabilitation project for the facility, which is operated by the St. Mary Municipal Corporation.
Speaking at the signing ceremony, Honourable Minister Desmond McKenzie said the occasion was a welcomed relief for him.
"This year, the administration intends to set aside some $150 million to look at the problems of markets as no significant work has been undertaken over the last five years in our public markets," he explained.
"Most of the markets are in a deplorable condition. These markets are not conducive for vending or for persons to ply their trade and it is the responsibility of the government to ensure that we provide this kind of environment that will enhance people's pursuit of their own selective field of employment."
Contractors, Dutch Construction, was reminded that the works must be delivered on time and within budget. The project to replace the existing facility on Hodgson Street in Port Maria will get underway in two weeks. There is a 12-month timeline for completion.
The Minister recognized Mayor of Port Maria, Councillor Richard Creary for championing a modern facility that will impact traffic control and economic regeneration for the eastern parish.
"I want to commend the Mayor because the vision of a multi-faceted market facility came from him and in most developed countries that you visit their markets are not just for ground provisions but they provide a wide range of service to people. I think the concept is something that is commendable."
According to Mayor Creary, the vision for the two-storey building boasting commercial space for rental on the top floor was conceptualized in 2009 with an identified funding source. However, works were delayed and the talks were resumed with Minister McKenzie in the latter part of 2016.
"Today is a very special day for me, the citizens of Port Maria and St. Mary," added Mayor Creary.
"Minister, I understand that this is the first phase, and I look forward to the second phase in short order to have the dream of a two-storey market in Port Maria completed."
Minister McKenzie also encouraged the St. Mary Municipal Corporation to develop strategies to ensure the viability of the new space that will accommodate 55 stalls on completion of Phase One.