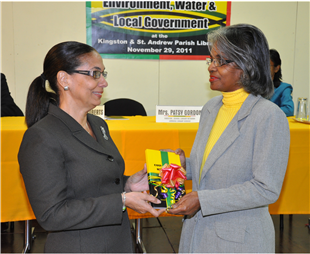 Councillor's Handbook handed over to the Jamaica Library Service
Councillor's Handbook handed over to the Jamaica Library Service
Minister without Portfolio in the Ministry of Housing, Environment, Water and Local Government with responsibility for Local Government Honourable Shahine Robinson, today handed over copies of The Councillor'sHandbook to the Jamaica Library Service.
Addressing the patrons and staff gathered at Kingston & St Andrew Parish Library to witness the event, Minister Robinson said the books were being handed over as part of the Department of Local Government's continuing public education drive in support of the local government reform agenda. She said that public education was essential, as one of the basic tenets of the reform programme is citizen participation and "to be able to participate fully in the governance of their communities citizens must be empowered with information".
Continuing, Minister Robinson proffered that the library is the ideal vehicle by which to make information on local governance and local government reform accessible to the wider public. She added that it was good that the information would be available to children as "we must aid the development of future generations by grooming our youngsters to play their part and to grow into active participants in local governance" she said.
In her remarks Director General of the Jamaica Library Service (JLS) Mrs. Patricia Roberts said she was very pleased to be receiving the books as the JLS is always seeking to increase its repository of reference material. She agreed that local governance is an area that should interest all, as good governance at the local will result in good governance at the national level.
The Councillor'sHandbook was published by the Department of Local Government as a guide for current and future councillorson their roles and responsibilities as well as the operations of the Local Authority.