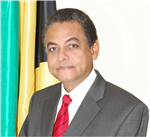 DEBATE ON PLACING LOCAL GOVERNMENT IN THE CONSTITUTION OF JAMAICA TO START IN PARLIAMENT
Minister of Local Government and Community Development, Hon. Noel Arscott, is scheduled to open the debate on the Constitution (Amendment) (Local Government) Bill in the House of Representatives today.
The Bill seeks to insert provisions for the system of Local Government into the Constitution of Jamaica, and is seen as a critical part of the Local Government Reform agenda. The Bill was originally tabled in the Lower House on September 30, 2014. In keeping with the requirements for amending the Constitution, the minimum three month period has elapsed between the initial tabling and the start of today's debate.
At the end of today's debate in the House, another three-month period must pass before the Bill can be approved by the House. Two-thirds of the membership of the House of Representatives and also of the Senate will have to pass the Bill, for it to be placed in the Constitution.