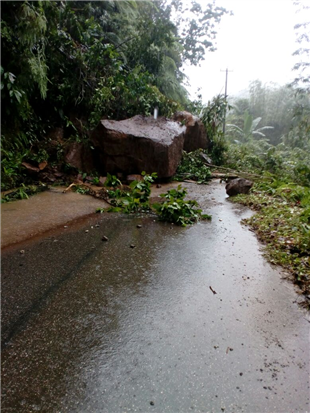 EMERGENCY FUNDING GRANTED FOR RESTORATIVE WORKS IN RAIN-DAMAGED PARISHES
Minister of Local Government and Community Development Hon. Desmond McKenzie, has approved J$10 million in emergency allocations in the aftermath of heavy rain, flooding and landslides in Portland, St. Ann, St. Mary and Trelawny.
"I have directed that funds are to be immediately released, to clear roads blocked by land slippages and any other debris that has made them impassable, and to implement any emergency road works as are necessary. Accordingly, J$3 million will be allocated to each Municipal Corporation of the two worst affected parishes, while the Local Authorities of the other two less affected parishes will receive J$2 million each. We want to minimize the trauma and disruption to our citizens, and ensure that they can get back to work and to school as quickly as possible."
The Local Government and Community Development Minister, has also given approval for Municipal Corporations to use their Special Grant for Repairs (SGR) to take care of emergencies in their jurisdictions as necessary.
"These are all critical interim actions that we are taking now. We will await the damage assessment reports of the Chief Engineering Officers of the affected Municipal Corporations, and thereafter develop a comprehensive road repair and rehabilitation programme."