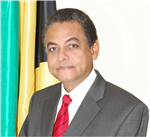 GOVERNMENT'S EMERGENCY RESPONSE INFRASTRUCTURE IMPROVED THROUGH DONATION FROM THE GOVERNMENT OF JAPAN
Minister of Local Government and Community Development, Hon. Noel Arscott, has expressed thanks to the Government of Japan, for its donation of two Fire Trucks and two Ambulances to the Ministry. The trucks and ambulances will be used to bolster the Jamaica Fire Brigade's fire and emergency response infrastructure in the parish of Westmoreland.
At a special handing over ceremony on Friday, December 5, 2014, Minister Arscott noted that the assistance was provided by the Grant Assistance for Grass-Roots and Human Security Project, in partnership with the Society for the Promotion of Japanese Diplomacy.
Minister of State, Hon. Colin Fagan, noted that residents and businesses were negatively affected by a high yearly average of 474 fires in the parish, along with an average of 460 emergency cases per year.
He said the Ministry, along with the Divisional and Constituency representatives, was driven by the desire to serve the needs of the people of Westmoreland. In his response, Japan's Ambassador to Jamaica, His Excellency Yasuo Takase, noted that the Government of Japan was driven by its desire to assist economic and social growth in developing countries, and to promote international cooperation.
Out of these complementary objectives, the Project for Improvement of Ambulances and Fire Trucks of Emergency Response in Westmoreland was born, and a Grant of just over US$81,000 provided by the Japanese government.
Mayor of Savanna-La-Mar, Councillor Bertel Moore, and Member of Parliament for Eastern Westmoreland and State Minister for Agriculture & Fisheries, Labour a& Social Security, Luther Buchanan, expressed gratitude for the donation, stating that it will ensure that the people of Westmoreland will work and live with a greater sense of assurance.
They also asked that the vehicles are meticulously cared for, not only by the Jamaica Fire Brigade but by the ordinary citizens.