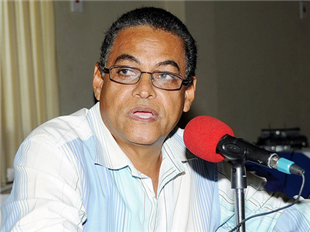 Hon Noel Arscott MP, Minister of Local Government & Community Development
Second time MP Noel Arscott, hails from the parish of Clarendon and was educated at the Toll Gate Primary School, Vere Technical High School and later the University of the West Indies, Mona. The 61 year old Agro Processor/Farmer represents the constituency of South West Clarendon where he is more popularly known as 'Butch". He contested the seat for the first time in 2007 defeating the Jamaica Labour Party's Joel Williams by 1,237.
In addition to serving as Member of Parliament he currently serves his community as president and founder of the Osborne Store Youth Club. He is also an executive member of the Clarendon Football Association, member of the board of the 4H Advisory Council and the Red Cross
Minister Arscott's political appointments include Party Vice President, Constituency Secretary, Vice Chairman, Opposition Spokesman on Mining; he also did a stint as vice president of the PNP Youth Organization. He holds membership to the Parish Council Services Commission, National Irrigation Commission, Development Bank of Jamaica and the Red Cross.
Minister Arscott's appointment to the Cabinet on Friday, January 6, 2012 represents is his first Ministerial appointment.