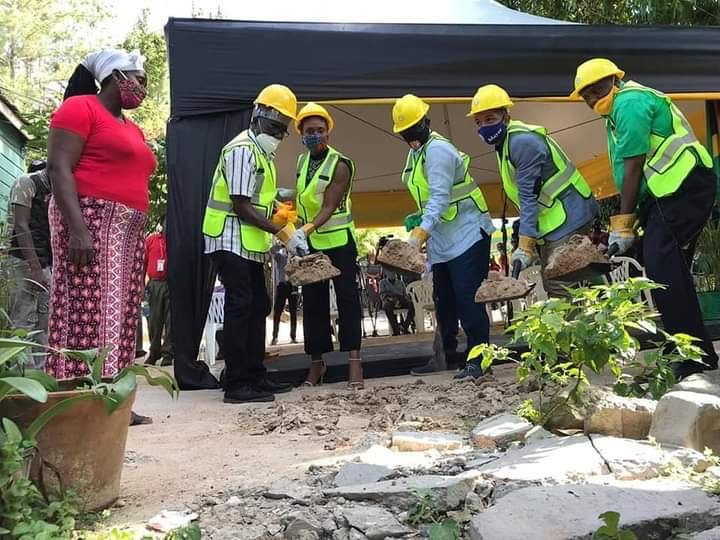 Indigent House for West Rural St, Andrew mother
Ground was officially broken for the construction of the first in 100 indigent housing solutions over the next 12 months by the Ministry of Local Government and Community Development.
The houses are being built under the Ministry's Municipal Social Assistance Programme (MSAP) which was conceptualized during the 2017/2018 fiscal year.
"The Andrew Holness administration has committed to do as much as we can to help to ease the sufferings of persons who fall within the category of poor and destitute," said Portfolio Minister Desmond McKenzie.
"We put a new feature in it now, we added a water tank so if there's no water, you have a tank to catch water.'
He was speaking at the groundbreaking ceremony for an indigent house at Grant Hill in Lawrence Tavern, St. Andrew on July 29. The one-bedroom residence will be built at a cost of J$2.5 million. The beneficiary is 47-year-old Michelle Cookhorn.
"I'm very glad. Whether it's one or two, I will be a very happy woman," the single mother of five said between tears. "I feel very happy to be selected for this indigent house, I will take care of it. I prayed hard for this house and now victory is mine."
To date, J$63M have been spent to construct 32 units for beneficiaries with four more targeted for construction during the new financial year.
Minister McKenzie was also joined by Mayor of Kingston, Senator Delroy Williams, Member of Parliament for West Rural St. Andrew Juliet Cuthbert Flynn and Councillor John Myers.