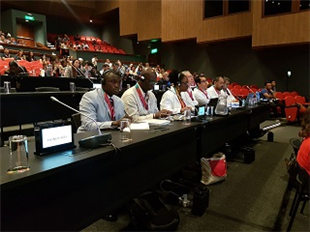 Jamaica presses ahead with Disaster Risk Reduction targets
CARTAGENA, Colombia:Honourable Desmond McKenzie says Jamaica is committed to realizing its disaster risk reduction targets.
"This determination is now being refined to incorporate disaster risk management into the core of our country's economic growth strategy," the Local Government and Community Development Minister shared in his country statement on June 20, 2018 at the 6th Regional Platform for Disaster Risk Reduction in the Americas, in Cartegena, Colombia.
"Over the past two decades, our reality of being a Small Island Developing State, located in a region prone to disasters, has resulted in significant infrastructure and social capital losses…Since the adoption of the Sendai Framework, Jamaica has continued through successive political administrations to develop a contemporary, functional and evolving disaster management and mitigation infrastructure to meet its obligations as a signatory."
According to the United Nations Office for Disaster Reduction (UNISDR), the Sendai Framework (2015-2030) is an agreement that recognizes the State as having the primary role to reduce disaster risk, and shared responsibility with other key stakeholders including public and private partners.
Minister McKenzie also told the conference that the Jamaica is incorporating more disaster-resilient infrastructure as part of its capital investment and works project. This policy direction is also bolstered by two critical pieces of legislation – the Building Act 2018 and the Disaster Risk Management Act 2015.
"The (latter) Act not only strengthens disaster risk governance to manage disaster risk but provides a highly-involved architecture that formalizes national partnership between central and local government; government and non-government individuals and mechanisms," he explained.
He also underscored the critical partnership with the United National Development Programme (UNDP) to create a special disaster risk reduction project in Jamaica starting in 2019.
"This will result in the creation of Local Risk Reduction Management Centres, the development of national climate information and early warning services for disaster risk reduction, and the development and implementation of Disaster Risk Reduction and Adaptation Plans at the community level."
Minister McKenzie is leading the Jamaican delegation, consisting of representatives from the Ministry and the Office of Disaster Preparedness and Emergency Management (ODPEM) in Colombia.
He returns to the island on June 25, 2018.