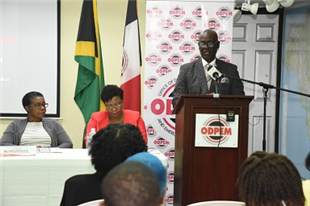 Jamaicans urged to become more proactive to natural disasters
KINGSTON, Jamaica: Jamaicans are being urged to embrace a more proactive approach to natural disasters as the country moves to increase its disaster resilience.
Minster of Local Government and Community development, Honourable Desmond McKenzie, gave the charge during an Earthquake and Tsunami Awareness Campaign 2019 press conference hosted by the Office of Disaster Preparedness and Emergency Management (ODPEM) on Monday (January 14, 2019).
"It is fitting that we are here today, just two weeks into 2019, to shake up the national attitude to earthquakes and tsunamis…I am making a personal appeal to very Jamaican to take this campaign of earthquake and tsunami awareness seriously," he said.
"My concern is that the majority of our people continue to see disasters as incidental and unlikely to happen to them and if they do, the feeling is that it is Central Government and its agencies that must exclusively do what is necessary."
Minister McKenzie underscored that with Jamaica being one of the vulnerable small state islands in the region, disaster awareness and preparedness should be in the personal interest of each citizen.
The month of January is observed locally as Earthquake Awareness Month.
Statistics shared by the ODPEM's Director General, Major Clive Davis, indicate that seismic activities increased globally during last year and that Jamaica is exposed to 200 quakes yearly – many of which are too small to be felt by humans. Three tsunami alerts were issued in the region for 2018.
Some 17 major earthquakes occurred across the globe, the three of which were experienced in Haiti, Mexico and Trinidad, leaving more than 4000 injured; 2,256 dead; at least 600 persons missing and extensive property damages.
According to Major Davis, his agency wants "to insight the nation into action for an earthquake or tsunami occurrence at any time" and that schools islandwide have been selected for special activities and focus as part of the ODPEM's public education campaign.
The Minister also stated that natural disasters have cost Jamaica billion of dollars that could have improved infrastructure and social services.  He pointed to a recent United Nations' publication reporting that efforts by countries in the region to grow their economies are constantly threatened by natural disasters.
"The vulnerability in Latin America and the Caribbean are often just one disaster away from falling back into poverty," noted Minister McKenzie.  "The Government is therefore doing the necessary things to increase this country's capacity for disaster resilience. I urge you take greater personal responsibility as we move to make this island ready for developed country status by the year 2030."