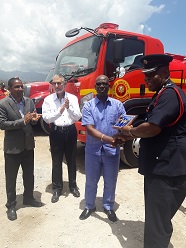 JFB gets Fire Boats, Four New Trucks – Boats for Corporate Area and Montego Bay
Minister of Local Government and Community Development, Honourable Desmond McKenzie, handed over more than J$300 million worth of equipment to enhance the capabilities of the Jamaica Fire Brigade (JFB).
"Today is a landmark day…the equipment that we are going to commission into use represents an investment collectively of over three hundred and eighty five million dollars to the Jamaica Fire Brigade," commented Minister McKenzie.
"Finally after many stops and starts, we have two boats. One will be stationed here in the Corporate Area and the other one in Montego Bay that cover the western part of the island."
He was speaking during a special ceremony at the Fire Boat Station, Newport East in Kingston on Monday, April 16, 2018. The event was supported by Mayor of Kingston, Senator Delroy Williams and the JFB Board of Directors led by Russell Hadeed.
The JFB has been operating without a fire boat within Kingston and its environs for the past 11 years. The other pieces of newly-acquired equipment include four trucks – two pumpers and two water tenders.
"We also require stations to facilitate not just the boats themselves but for those persons who are going to be operating the boats, and so the Government is going to be spending some J$22 million to erect facilities to house the staff of the fire boats," the Minister added.
The earmarked amount for this fiscal year has a breakdown of J$14m for Montego Bay and J$8m to upgrade the Fire Boat Station at Newport East.
Head of the JFB, Commissioner Raymond Spencer described the hand-over as a momentous occasion for firefighters.
"The modern fire service must respond to both present and emerging threats," he said. "My hope is that in the next three and a half years when the Jamaica Fire Brigade celebrates its 150th anniversary, we will have an improved citizen-centered fire service that provides swift response and value-added service."
Commissioner Spencer expressed gratitude to the Jamaica Defence Force for assisting with the training of staff of the fire boat, which will be maintained by the Kingston and St. Andrew Municipal Corporation.
"The response capability is quite important to the building of a city. We are growing the City (of Kingston) in every way and we must be able to respond to emergencies quickly and effectively," Senator Williams said in his greetings. "A coordinated multi-agency approach is important to disaster preparedness and emergency response."
Minister McKenzie also shared that there is an additional sum of J$189m in the 2018/2019 budget to purchase new fire trucks. This budgetary support will be augmented by a partnership with the Jamaica Social Investment Fund through which will provide financing for six more units.