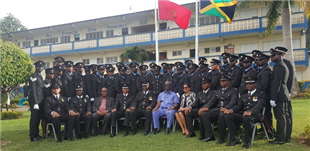 JFB graduates 106 new firefighters
KINGSTON, JAMAICA: Some 106 recruits were officially presented as the newest members during a recent graduation exercise of the Jamaica Fire Brigade (JFB) in Tower Isle, St. Mary.
Honourable Desmond McKenzie, Minister of Local Government and Community Development, reminded the new firefighters that their role is critical to the nation's road map in becoming a developed country.
"The men and women who will officially join the ranks today, are entering public service in a very special way. Just like our doctors and nurses, you will be on the frontline of human interaction," he charged. "That is why the placement of the Jamaica Fire Brigade as an Agency of the Ministry is highly appropriate. My Ministry, through the Local Authorities and Agencies, is indeed the first point of government's service delivery to the Jamaican people, and you have a vital role to play as we build a developed country for all our citizens."
Minister McKenzie gave the keynote address at the ceremony on February 8, 2018 at the Madge Saunders Conference Centre. He also impressed on the recruits to always remember the sacrifices made by their parents and relatives in order to afford them the opportunities for a higher quality of life.
"Despite the challenges of crime and violence; there is a greater number of constituents who are prepared to take the high road. The 106 of you here today have not gone down the path of taking up the M16 or AK-47," added the Minister.
"I want to thank you for choosing a career in the Jamaica Fire Brigade. There are exciting times ahead for all of you…As the latest intake into the Jamaica Fire Brigade, you have the unique opportunity of responding to people's needs, and also, of teaching them valuable life skills."
Minister McKenzie also announced a purse of $250,000 to the outstanding graduates who copped special awards. Each individual awardee will be gifted $15,000 while the runners-up get $10,000. The seven females in the new batch of the firefighters will each receive $10,000.
Lamar Brown, who was adjudged the best recruit, will receive $30,000 and $20,000 to second-place Fabian Williams. Williams also copped three other individual awards.