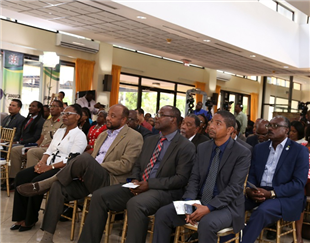 Labour Day & Workers Week 2018 launched
The construction of ramps in schools to provide greater access by members of the physically-challenged community, and the overhaul of health centres will be the focus for Labour Day 2018.
The activities will be commemorated on May 23 under the theme 'Ramp it Up… Fix it Up'.
Prime Minister of Jamaica, the Most Honourable Andrew Holness, launched the activities for both Labour Day and Workers' Week at the Office of the Prime Minister in Kingston on May 1, 2018.
He said Labour Day is embraced by communities to participate in projects that allow for physical improvements, foster volunteerism and promote social cohesion through improved planning and execution.
"Carry forward the spirit of volunteerism and service (and) allow it to become part of everything you do and a fixture in your daily lives," Prime Minister Holness encouraged.  "Make every day meaningful and productive, doing more for your families, your community and your country."
The Ministry of Culture, Gender, Entertainment and Sport, which is spearheading Labour Day activities, has partnered with the Ministries of Local Government and Community Development; Labour and Social Security; Education, Youth and Information and Health.
The national projects for Labour Day 2018 are the St Ann's Bay Infant School in St Ann, and Cumberland Health Centre, St. Catherine.
Acting Permanent Secretary in the Ministry of Local Government and Community Development, Mrs. Marsha Henry Martin, read the remarks from Portfolio Minister, Honourable Desmond McKenzie.
Minister McKenzie highlighted that Labour Day confirms the power and the potential of community awareness and community action to make development happen.
"The Ministry has been a traditional partner in the implementation of Labour Day activities, and we will continue to support Labour Day as a Ministry and also through Municipal Corporations," he stated. "As the Local Building Authorities in all parishes, the Municipal Corporations will play a special role in ensuring that we 'Ramp it Up' and 'Fix it Up' at the local level and the Ministry will support all parish projects through the Municipal Corporations."
The Minister in galvanizing support urged Jamaicans to "truly make Labour Day the catalyst for improved and lasting social cooperation, collaboration and civic pride".
This observance of Workers' Week also coincides with two national historic events – the 80th anniversary of the 1938 workers' protest; and the 186th year since National Hero, Right Excellent Samuel Sharpe, was hung for his role in the 1832 Christmas Rebellion that started at the Kensington Estate in St. James.
Floral tributes will also be done for the Right Excellent Samuel Sharpe both in Kingston (National Heroes' Park) and St. James (Sam Sharpe Square in Montego Bay) on Labour Day. The tributes will commence at 8:00am and last for half an hour.