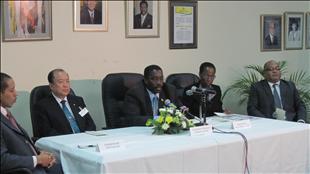 LAMP II Programme Launched – Hon Robert Minster Montague Chairs
Prime Minster, Hon. Bruce Golding officially launched Phase II of the Land Administration and Management Programme (LAMP II) on Thursday July 1, 2010 at the Junction Great House in St Elizabeth.
LAMP II, which is being administered through the Department of Local Government, came about as a result of an arrangement between the Government of Jamaica (GoJ) through the Office of the Prime Minister, Korea Cadastral Survey Corporation and Geoland Title Limited and represents an expansion of the original programme which was instituted in 2000 through funding from GoJ and the Inter-American Development Bank (IDB).
LAMP's primary function is land registration, under this programme landowners are able to have their lands surveyed and titles registered at significantly reduced cost. The first phase of the programme targeted the parish of St Catherine, while the second phase will see major expansion into the parishes of St Elizabeth, Clarendon, Manchester and St. Thomas.
Speaking at the launch, Minister with responsibility for Local Government, the Honourable Robert Montague, said that the focus would be on land that is owned by individuals who find it difficult to prove ownership. "This is our primary concern" he said.
Recent LAMP field surveys revealed that the number of unregistered land parcels may amount to more than 1.5 million as such under 20% of land owners have certificate of tiles. According to Minister Montague this means that the vast majority of landowners cannot access the full line of benefits available to registered land owners. He is therefore emphasizing the desire to have the programme deliver its target of registering more than 12, 000 titles in 24 months.
The GoJ signed contracts with Korea Cadastral Survey Corporation and Geoland Title Limited for LAMP II, on April 22, 2010.
Korea Cadastral Survey Corporation is a government agency, of the Ministry of Land, Transport and Marine Affairs in South Korea, specializing in cadastral surveying and mapping services and Geoland Title Limited is a privately owned Jamaican company specializing in Project Management and Information Technology.