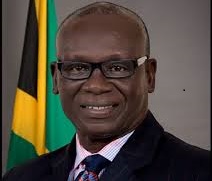 Local Government & Community Development Minister breaks ground for first "Water Shop" in Clarendon
Minister of Local Government and Community Development, Hon. Desmond McKenzie, has launched the pilot of a planned series of Water Shops that are intended to raise living standards in drought-stricken and otherwise water-deprived communities.
At a ground-breaking ceremony at Pennants in Clarendon recently, the Minister described the Water Shop initiative as "the start of a process to eliminate once and for all, the degrading experiences of our citizens who have to be seeking water every day, in order to live like modern human beings. This is the start of the movement to wipe away the image and the reality of our citizens, in various communities around the country, demonstrating against the lack of water. This is the start of the movement to ensure that our public health services are constantly supported by peoples' dignified access to clean water every day."
The Minister said the Water Shop to be constructed in the community, will serve approximately 1,000 people.
The first phase of this project will last for three months, and will involve the construction of a structure that will contain eight, 1000-gallon plastic tanks. These tanks will be mounted on a concrete base and pipes will be attached to them. Trucks will fill the tanks on a regular basis and, and then the water will be dispensed from the Water Shop.
A 20-foot shipping container will also be provided and retrofitted, and will be the Office and Administrative area for the Water Shop. For Phase 2 of the project, the intention is to harness water from the river nearby, through the installation of pumps and pipelines to draw water from the river to the Water Shop. This will reduce the need for trucking water to the facility.
The Water Shop will be built by the Ministry of Local Government, along with the Clarendon Municipal  Corporation and the Rural Water Supply Company Limited, at a cost of J$10 million. Additionally, repair works will be done to the road leading to the facility.
In charging the residents to cherish the facility once it becomes operational, the Minister also announced water will be dispensed for free for the first three months, after which users will pay for the commodity.
"Everyone knows that if you're going to get something from the shop, you have to pay for it. The same thing is true here. Everything has a cost, and we expect that when people come here, they will go to the Office, order the amount of water they want, pay for it, and then the water will be measured out and given to them. This is public money that is being pumped into every Water Shop, and everything has to be accounted for."