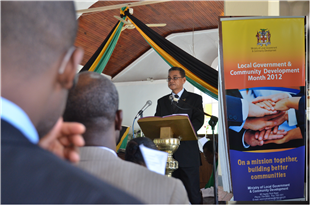 Local Government & Community Month Launched
On Sunday November 4, 2012 the Ministry of Local Government & Community Development officially launched Local Government and Community Month 2012 under the theme: Local Government; on a mission together, building better communities.
The launch formed part of the National Church Service held in collaboration with the Manchester Parish Council and the Social Development Commission (SDC) at the St Augustine Anglican Church in Porus, Manchester.
In delivering his Local Government & Community Month message Minister of Local Government & Community Development the Hon Noel Arscott,emphasised the value of community involvement in local governance. "Critical decision-making and priority setting at the community level is of significant import to the local governance process as the wealth of knowledge and experience throughout our communities is an extremely valuable repository from which we draw inspiration" He said.
The Minister also gave his commitment to continuing the participatory approach to governance saying that the Ministry would be "doubling its efforts to increase the direct engagement of our Civil Society Partners particularly our Parish Development Committees (PDCs) through the strategic linkages developed by the Social Development Commission."
While acknowledging that our local government system boasts international renown and is admired by our Caribbean and Commonwealth counterparts, the minister said that there was still much to be done. He encouraged members of the local government fraternity to use local government month, November, to reflect on their roles and responsibilities and to come "to the singular conclusion that Local Governance is a major plank for Jamaica's continued development."
The Minister also used the opportunity to recognize the efforts of the Parish Councils, National Solid Waste Management Authority, Jamaica Fire Brigade and other government agencies in the aftermath of Hurricane Sandy and promised continued support to those affected by the hurricane.
The observation of Local Government Month came out of the reform programme and a need to provide, the public with more information and for the Local Authorities (LAs) to have the opportunity to highlight their activities and deepen their relationship with their constituents.
The commemoration of Local Government Month continues with the major event of an investiture ceremony for Mayors and deputy Mayors on Friday, November 9, 2012 at King's House. Other activities include a health fair, youth councils and an awards function for Local Authorities. Additionally, each local authority has developed its own slate of activities while the SDC is partnering with the Councils to implement parish projects involving youth mayors.