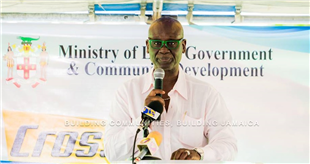 Local government minister announces works for new fire stations in st. mary and st. james
Local Government and Community Development Minister Hon. Desmond McKenzie has announced that work on constructing two new Fire Station in St. James and St. Mary, is expected to commence approximately three months into the new year.
At a special news conference held on Friday, the Minister announced that the construction project, which will be managed by the Jamaica Social Investment Fund under the World Bank Disaster Vulnerability Reduction Programme, is closer to commencement with the impending end of the procurement process.
"The tender advertisements for the Port Maria Fire Station in St. Mary will be published in the first week of November, and, at the end of the subsequent Bid Selection exercise, works will begin by the end of this Financial Year at a cost of J$241 million. With regard to the Barnett Street Fire Station in Montego Bay, the Bid Selection process is shortly at hand, and works are expected to begin by the start of the next Financial Year, April 2019, at a cost of J$475 million."
The Minister also reported that works are being implemented at the island's Infirmaries, consistent with his announcement in this year's Sectoral Debate in June. At that time, he announced a special J$200 million partnership for the development of Infirmaries with the National Housing Trust. "Works are proceeding at the Matron's Quarters at the Westmoreland Infirmary at a cost of J$16 million, and the project at the St. James Infirmary, which is valued at J$35 million is well advanced. Works at the St. Elizabeth Infirmary will begin shortly, at a cost of J$15 million. I must also acknowledge the important role of the CHASE Fund, which will be providing standby generators for every Infirmary, and of the National Health Fund, which will be providing medical equipment."
Having handed over three compactor trucks valued at J$25 million to the National Solid Waste Management Authority (NSWMA) early in October, Minister McKenzie announced that discussions are currently being held with the Ministry of Finance and the Public Service to procure additional units. "The Ministry is keenly aware that while there have been substantial investments in the procurement of garbage collection equipment, there is still outstanding refuse across the country that must be collected and processed. In this regard, I will be crafting, in conjunction with the Chairman and Executive Director of the NSWMA, a special programme to address the existing backlog. We intend to make this Christmas a garbage-free one for our citizens."
The Minister also used the occasion to remind business operators that they should make arrangements with the NSWMA to collect their waste at their expense, as the Agency is mandated by law only to collect residential waste.