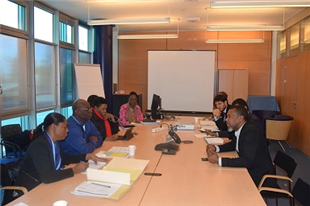 Local Government Minister attends Global Disaster Risk Reduction Platform in Switzerland
KINGSTON, Jamaica: Minister of Local Government and Community Development, Honourable Desmond McKenzie is leading a Jamaican delegation to the sixth Global Platform for Disaster Risk Management in Geneva, Switzerland.
The Conference, organized by the United Nations Office for Disaster Risk Reduction, will among other things examine the progress made by signatory countries to the Sendai Framework in devising and implementing national and local disaster risk reduction strategies by 2020.
While in Geneva, Minister McKenzie, who also has ministerial responsibility for the Office of Disaster Preparedness and Emergency Management (ODPEM) and is the deputy chairman of the National Disaster Risk Management Council, will address a number of sessions at the Conference and participate in a series of high-level dialogues involving policymakers from participating countries.
He will also provide an update on Jamaica's planning of the 7th Regional Platform for Disaster Risk Reduction in the Americas and the Caribbean, which will be held in Montego Bay in July 2020.
At the last Regional Platform for Disaster Risk Reduction in the Americas held in Colombia, the Minister accepted on the Government's behalf, a formal invitation to be the host of next year's event.
"The Global Platform for Disaster Risk Reduction, which is a biennial forum, is critical to Small Island Developing States (SIDS) such as Jamaica, as it directly facilitates information exchange and knowledge and partnership-building across sectors," stated Minister McKenzie.
"Therefore our Government and other governments, non-government organizations, the scientific community and various organizations will not just share what is being done now to achieve disaster risk reduction, but will also develop practical recommendations that we, as policy makers in charge of sustainable development, finance, economic planning and disaster risk reduction, can implement for the improvement of our peoples' lives."
The Global Platform for Disaster Risk Reduction will end on May 17.