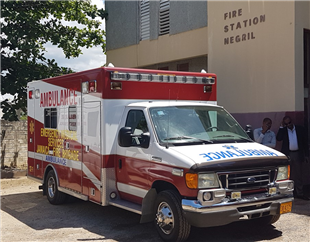 LOCAL GOVERNMENT MINISTER RAISES CONCERN ABOUT HIGH ACCIDENT RATES IN WESTMORELAND, AS AMBULANCE IS HANDED OVER TO THE PARISH
Minister of Local Government and Community Development Hon. Desmond McKenzie is expressing renewed concern that  the high number of motor vehicle accidents across the island generally, and in Westmoreland in particular, is putting a great strain on the country's health services.
"The rate of motor vehicle and motorcycle accidents across the country is creating great cause for concern… I can only urge the people here in Negril to be more understanding, to be more responsible… Let us try and work to reduce the level of accidents across the parish of Westmoreland," he said.
The Minister was speaking at a ceremony at the Negril Fire Station, where a specially retrofitted Ford E250 6-seater ambulance, valued at US$35,000, was handed over by the Issa Trust Foundation/Health for Life and Wellness Foundation Limited to the Jamaica Fire Brigade for use in the parish.
The Minister noted that Westmoreland has the highest rate of road fatalities across the island, and urged Chairman of the Westmoreland Municipal Corporation Mayor of Savanna-La-Mar Bertel Moore, who was in attendance at the ceremony, to assist in the implementation of programmes aimed at reducing accidents in the parish.
"I would advise you, Mr. Mayor, to get these people to form themselves into Associations, to sit down to talk and look at the best way to operate, because unless there is a certain level of discipline, we will be at the same place where we are today."
Minister McKenzie emphasized the critical need for the ambulance in Negril, and stated that "the pressure that is brought to bear on the response capabilities of the Jamaica Fire Brigade is enormous…the parish of Westmoreland has an average of 110 calls into the Fire Department every month." He also stated that the ultimate aim is to ensure that each of the thirty-three Fire Stations across the island is equipped with an ambulance.
The Minister also pledged to address security concerns at the Negril Fire Station, by facilitating the removal of the current chain link fencing, and replacing it with a concrete perimeter wall.
Mr. Elias Issa, who represented the Issa Trust Foundation at the ceremony, noted that the town of Negril, like many other communities across the island, has not had a reliable working ambulance for quite some time.
"We understand that Government does not have the resources to equip every town in Jamaica with an ambulance. But what the Issa Trust Foundation has done, in this case, is to purchase a pre-owned, but re-conditioned ambulance at a reasonable price and ship it to Jamaica," he explained.
He also urged the Government to partner with Foundations and service groups in a bid to help facilitate the eventual goal of having a working ambulance in every community in Jamaica.