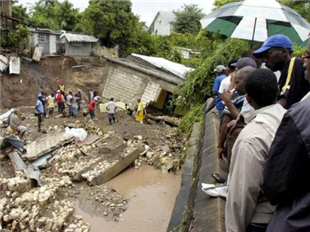 LOCAL GOVERNMENT MINISTER URGES TOTAL COMPLIANCE WITH DISASTER EVACUATION ORDERS IF ISSUED THIS HURRICANE SEASON
Local Government and Community Development Minister, Desmond McKenzie, is imploring persons living in at-risk communities to comply with mandatory evacuation orders issued during the 2016 hurricane season.
He is warning that "those who resist will face the full force of the law."
Speaking at the launch of Disaster Preparedness Month 2016 by the Office of Disaster Preparedness and Emergency Management (ODPEM), the Minister stated: "Whenever the warning is given, I don't believe anybody should tell us they are not going to move. The law should take its course." He noted that as the Government strives for growth and prosperity, people will no longer be allowed to live or build in non-designated areas.
The Disaster Risk Management Act outlines the powers of the Minister, on the advice of the Director-General of ODPEM, to declare any place as a Disaster Area and to order evacuations.
Minister McKenzie said that the message of compliance must be taken into all vulnerable communities and called on the church, social groups and influential persons to begin to "change the mind-set of citizens to do the right thing and save the country's valuable resources."
Disaster Preparedness Month is being observed under the theme: 'Plan, Strategize, Prioritize: Disaster Impacts Can Be Minimized'.
The Launch also marks the start of the Atlantic Hurricane Season, which runs from June 1 to November 30.
Projections are that it will be an average hurricane season.