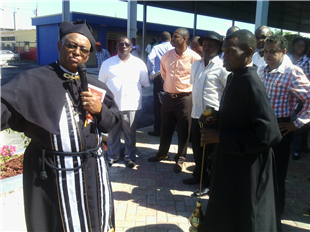 Long Awaited Black River Market Officially Opened By Local Government Minister
Minister of Local Government and Community Development, Hon. Noel Arscott, is hailing the Black River Market as a shining example of continuity across political administrations. In Officially Opening the market in St. Elizabeth's capital on Wednesday December 10, the Minister said the market project "is part of a wider, major redevelopment programme, which will involve 25 critical markets across the island. When completed, these markets will look nothing like what we have been accustomed to. Instead, they will have proper waste management systems, sustainable rain water harvesting facilities, and solar panels for electricity".
The Minister noted that the Black River Market started under the Administration formed by the Jamaica Labour Party in 2007, was completed under the current Administration formed by the People's National Party, and involved a range of public and private sector partners. These included the Jamaica Social Investment Fund (JSIF), the Ministry of Agriculture and Fisheries, the Ministry of Local Government and Community Development, the Tourism Enhancement Fund (TEF), the Jamaica Emergency Employment Programme (JEEP), and National Continental Bakery.
Tank-Weld Limited built, transported and installed 170 vending stalls, in keeping with the terms of a J$16.7 million contract with the Local Government Ministry.
In describing the Market as a prototype of what the modern, spatially efficient and multi-dimensional market will look and feel like, Minister Arscott declared that "this is not just a market upgrade, but a transformation of public space, and a driver of efficient economic activity. This Market will contribute to a major improvement in public order, as vendors and other entrepreneurs will now be in a defined area, instead of offering goods and services on the streets, and contributing to chaos in traffic management. The design of the Market accommodates the needs of vendors as well as those of consumers. That is why this facility reflects clearly identified areas, adequate parking, bathroom facilities, and food service areas."