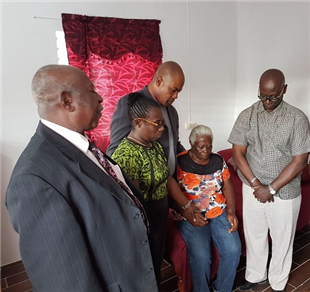 Minister Hands Over Houses In Clarendon
Two Clarendon families were presented with keys to their new homes that were constructed under the Ministry of Local Government and Community Development's Municipal Social Assistance Programme (MSAP).
"The Ministry of Local Government and the direction of the Government of the day is to ensure that we improve the bread basket of those who are less fortunate and destitute in the society," Portfolio Minister, Honourable Desmond McKenzie said during the official handover ceremony in Palmer's Cross, Clarendon.
"We have to take care of the most vulnerable among us and too often there is a general feeling that once you reach a certain age, you must be disregarded and treated as if you are of no use."
The recipients – Patsy Wheatley along with couple Earl and Gilder Fearon – who hail from the communities of Palmer's Cross and Crofts Hill respectively, were presented with their keys on February 9, 2018.
The houses, which were constructed at a total cost of $3.4 million, consist of concrete structures with a general area for living dining and sleeping, bathroom and a kitchen space.
Minister McKenzie announced the MSAP model during his sectoral presentation in April last year with its objective to advance and empower the poor and vulnerable.
The MSAP is grounded on four components comprising social housing assistance (house repairs, minor improvements, disaster preparedness and response assistance); education and funeral grants; office/administration support for parish councillors and indigent housing assistance. The programme is administered through the local authorities.
Four parishes were identified for pilot projects under the indigent housing assistance that will see the construction of two houses in each locale. The first phase of the project was undertaken in Clarendon. The roll-out will continue in East Rural St. Andrew, St. Thomas and St. Catherine.
According to Minister McKenzie, the idea is to build 28 such houses across the island, with a goal of 60 houses by the end of 2019.