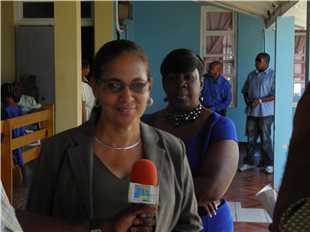 Minister Robinson Pledges Financial Support to St Ann's Bay Infirmary
Minister of State in the Office of the Prime Minister with responsibility for Local Government and the CDF Honourable Shahine Robinson, has pledged $1M towards the construction of a perimeter fence at the St Ann's Bay Infirmary.
The Minister, who is embarking on a series of 'Day-In-Council' visits over the next two (2) months, made the pledge during the inaugural visit to the St Ann Parish Council yesterday.
The day began with a special council meeting in which the Minister addressed council on various issues.   In her address Minister Robinson said she would be using these visits to strengthen the focus on real reform issues and principles, and on addressing challenges in a bi-partisan and results-based manner. She asserted that she seeks to employ a consultative approach to managing the local government portfolio and that the 'Day-in-Council' series was an ideal method through which to do this.
"I cannot do it alone, hence I embrace this kind of communications intervention" she said.
The Minister also announced that the theme to be adopted for this year's Local Government month celebrations is 'Local Government, Your Partner in Community Development' and she implored the council to apply this principle in serving the needs of its constituents. She said that consultation and communications are essential to achieving transparency, accountability, capacity building, citizen's participation, responsiveness and quality service delivery, which are basic tenets of the reform process.
She also told council that it was time to move the reform process to a higher level of application through strategic management and thinking at all levels, from councillors to the administrative arm, and that a greater understanding of integrated governance, forging partnerships, and strengthening community relations were effective means of meeting the challenges of quality public service delivery.
Following the council meeting, the Minister took the opportunity to get a firsthand feel of the issues affecting the council by visiting various portfolio entities including the Infirmary.
The Day-In-Council series continues with a visit to the St Catherine Parish Council on Monday October 3, Trelawny on Wednesday October 5, and Hanover on Thursday, October 6, 2011.