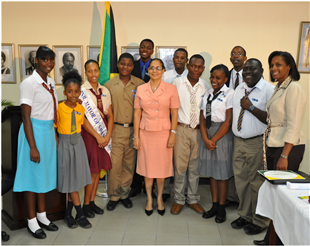 Minister Shahine Robinson Pledges $100,000.00 to each Youth Mayor
Minster Shahine Robinson Pledges $100,000.00 to each Youth Mayor
Minister without Portfolio in the Ministry of Housing, Environment, Water and Local Government with responsibility for Local Government Honourable Shahine Robinson, today pledged $100,000.00 to each Council for a project to be identified by the Youth Mayor. The pledge was made during a luncheon which the Minister hosted in honour of the island's fourteen (14) Youth Mayors.
The Youth Mayors' who were accompanied by the Mayors or their designate from the respective parishes were given the opportunity to speak with the Minister about their views on local governance and issues affecting their parishes. A number of the bright young students addressed the significance of this year's local government month theme, Local Government, Your Partner in Community Development,emphasising the need for citizens and youths in particular to play their part in improving their communities.
In her response Minister Robinson urged the Youth Mayors to be active in their communities, encouraging other citizens to participate in the decision making process.  She told them that as the affected persons they are familiar with the issues and should seek to dialogue with their councillors thereby making the job of the political representatives – community development- that much easier.
Minister Robinson also said that she was impressed with the level of presentations made and encouraged by the number of male participants, particularly in light of the fact that boys are seen lagging behind academically.
The youth council concept began in 1995 as a means of sensitizing youths about the operations of local government through the Local Authorities; since 2001 the Youth Mayors have been invited to a special luncheon with the sitting Minister of Local Government.