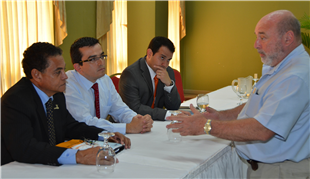 Ministry Launches Emerging and Sustainable Cities Initiative for Montego Bay
The Honourable Noel Arscott yesterday launched the Emerging and Sustainable Cities Initiative (ESCI) for the city of Montego Bay.
The initiative, which is an Inter-American Development Bank (IDB) venture, is designed to aid the sustainable development of Montego Bay; speaking at the ceremony Minister Arscott lauded the quality research and analysis that led to the production of documents pointing to the in-depth requirements to ensure that the City of Montego Bay is set on a path of progress and sustainability.
The Minister opened his presentation by thanking the IDB team and local agencies for the intensive and deliberate strategies that led to the launch of a very worthwhile initiative which he said not only complements the strides made in the local government reform process "but offers concrete long-term developmental tools for broader national development".
While stating that he was particularly pleased to see that the project has a distinct focus on the effects of climate change to include sea level rise, water resource management etc. Minister Arscott suggested that greater focus be placed on Citizen Safety and Security, Public Order and Citizens' Participation in the governance process in light of the peculiar issues negatively impacting the city of Montego Bay. He added that it was "critical that collaborative methods be sought under this project to assist in dealing with these issues."
The ESCI employs a multidisciplinary approach to addressing the challenges facing the urban areas of Latin America and the Caribbean by integrating Environmental Sustainability & Climate Change, Urban Sustainability and Fiscal Sustainability & Governance. In 2011 the IDB launched a pilot test to develop the ESCI's methodology in five cities, Montego Bay is among 11 cities added in 2012 following a field mission by the Bank to Jamaica in June 2012.
After various stakeholder consultations, the IDB team has identified the following as key priorities to be addressed in Montego Bay:
·                    Crime and security
·                    Coastal zone resilience including the preservation of ecosystems
·                    Urban planning and renewal
·                    Public spaces
·                    Waste management and sanitation
·                    Equitable/Balanced Development
·                    Other important topics such as risk management, broadband connectivity and fiscal sustainability
At the end of the IDB project the St James Parish Council will be presented with a sustainability plan that addresses these priorities.