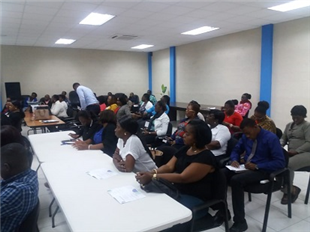 Ministry observes Internal Audit Month
KINGSTON, Jamaica: Internal auditors from the Trelawny and St James Municipal Corporations have received special awards for their level of compliance with the International Standards for the professional practice.
The awardees – Jannel Campbell and Shamar Campbell – were recognized during a recent seminar organized by the Ministry of Local Government and Community Development's Internal Audit Unit.
The seminar was held on May 31 recognition of Internal Audit Month observing the theme 'Promoting the profession and building awareness'.
The seminar comprised presentations from members of the Ministry's Internal Audit Unit as well as the Institute for Internal Auditors Jamaica Chapter.
The Chapter reiterated the importance of professional accreditation whilst the Audit Unit introduced its function, team and explained how management can assist in ensuring that the audit experience is pleasant and effective.
There were also interactive sessions that included the completion of a crossword puzzle and trivia questions that required internal audit-related answers.
Portfolio Minister Honourable Desmond McKenzie and Nadine Forrest- Allen of the Ministry's Audit Committee made the awards presentation to Misses Campbell.
The group was also entertained by the capably Kayla Smarth.
The seminar closed with a posthumous award to Tameka Wright, former secretary of the Ministry's Internal Audit Unit. The award was collected by her sisters