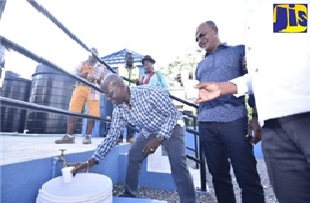 Ministry opens watershop in Bellefield, Manchester
BELLEFIELD, Manchester: Residents of several communities in Central Manchester are now accessing potable water with the infrastructure of a $9.3 million water shop in Bellefield.
Some 20,000 gallons of purified water will be provided daily to the persons living in Bellefield, Coffee Grove, Virginia, Davyton, Blue Mountain, Bombay, Top Bellefield and Banana Ground.
"For the next year, the water will be provided free of cost. We will review it then to see how it works. No resident should be turned away because there is no fee associated to the water at this time," Honourable Desmond McKenzie, Minister of Local Government and Community Development, said during the ceremony to hand over the facility on April 25.
It is the third such facility to be constructed by the Ministry following one in Pennants, Clarendon in 2017 and another in Marlie Hill, South Manchester that was opened in May last year.  Two water shops are currently under construction in the parish of St. Elizabeth.
The Bellefield Water Shop will be operated by the Manchester Municipal Corporation.
"It is a watershed day in the community and a mature day for Local Government. The Manchester Municipal Corporation has demonstrated that the capacity to operate in the best interest of the people of this parish," added the Minister. "We want by the end of 2019/2020 fiscal year to install water shops in critical constituencies across the country."
The residents were also urged to protect the facility, which was built on lands donated by community member Mr. Dillon Dawkins.
The Ministry introduced water shops in 2017 as a means of addressing the needs of residents in drought-affected communities across Jamaica, in a sustainable way. Southern sections of Jamaica, particularly Manchester and St. Elizabeth traditionally suffered from prolonged drought.