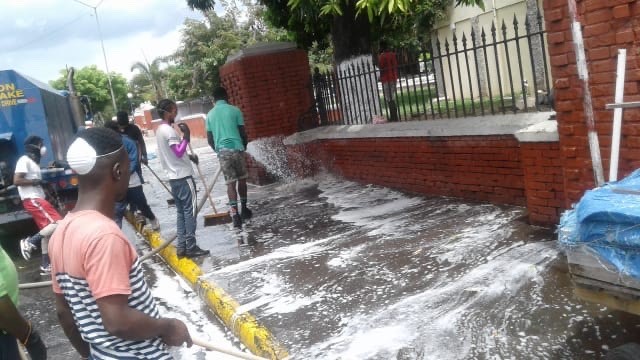 Ministry outlines special additional measures to fight Covid-19
KINGSTON, Jamaica: A special series of policies, programmes and measures have been put together as the Ministry of Local Government and Community Development's structured and initial response to the Covid-19 pandemic.
The measures, which were agreed to by the Mayors of the 14 municipalities, are aimed at securing the health integrity of our vulnerable population in our infirmaries as well as those who interact with them; safeguarding the indoor and outdoor poor on the Poor Relief List, as well as safeguarding the homeless.
Minister Desmond McKenzie said that the homeless street population, which numbers more than 200 persons, will be provided for.
"We will also be assisting our homeless population, over 50% of which is in the Corporate Area. Drop-In Centres are active in all parishes, and the homeless who go there will be given meals as well as care packages," he outlined.
"They will also undergo the sanitization procedures, and their temperatures will be taken. We will also be reaching out as far as is possible to those who congregate in known areas outside of the Drop-In Centres, to care for them in this way."
The Municipal Corporations will also be assisted with an overall J$16 million in funding to sanitize the areas where the homeless tend to congregate.
Minister McKenzie also emphasized that J$50m has also been allocated for the municipalities to provide water to communities affected by severe drought conditions, and to ensure that its minor water supply systems are operational and have adequate amount of the commodity.
The new opening hours for the public markets across the country will remain from 6am to 2pm. They will also observe the new crowd restriction of no more than 10 persons to be gathered in any one place.
Distinct protocols have also been established at all infirmaries and golden age homes where both employees and service providers will go through security and special screening including temperature checks before they are allowed entry to these facilities.
Come March 30, a special sanitization programme will be introduced at these facilities over three days, through a collaboration between the municipal corporations; Jamaica Fire Brigade, Jamaica Defence Force, National Solid Waste Management Authority, and the Office of Disaster Preparedness and Emergency Management.
"The Municipal Corporations will double their normal cleaning staff during this period, and the Ministry is providing funding for the procurement of cleansing and related material worth an overall $41.5 million," Minister McKenzie concluded.