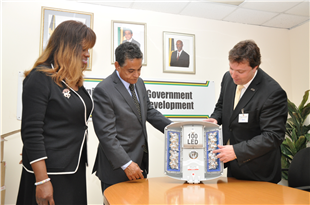 Ministry Receives Sample LED lamps
As the Ministry of Local Government and Community Development continues to explore energy saving alternatives, Minister Noel Arscott graciously accepted a visit from a representative of the Canadian company LED Roadway Lighting Inc.
The Minister, who was accompanied by Permanent Secretary Mrs Sharon Crooks, met with Mr. Marcos Miranda Director of Business Development for Latin America and the Caribbean, and was presented with samples of the company's products.
LED Roadway Lighting Inc. is a leading designer and manufacturer of LED based street, roadway and area lighting fixtures and control systems.
 Mr. Miranda was in Jamaica as part of a Canadian Trade Mission, from May 28th to May 31th 2012.