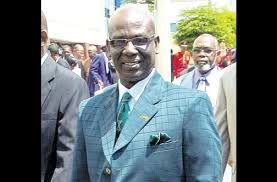 Ministry signs development agreements with Japanese government
A community development project Grant valued over J$10 million, was today signed between the St. Elizabeth Parish Council and the Government of Japan, at a special ceremony in Kingston.
The funding for the project, which was approved by the Government of Japan under the Japan Grassroots Human Security Project, will be used to construct a complex in the community of White Hall in south western St. Elizabeth.
The project was submitted in August of 2015 by a Japanese intern who was based at the St. Elizabeth Parish Council. The project falls under the Giddy Hall Community Development Committee (CDC).
At the same ceremony, His Excellency Mr. Masanori Nakano, Japan's Ambassador to Jamaica, Minister of Local Government and Community Development, Hon. Desmond McKenzie and Chairman of the St. Elizabeth Parish Council and Mayor of Black River Everton Fisher also signed an agreement for the procurement of Fire Trucks.
According to Minister McKenzie, "These trucks will be used within the parish, and they will go a long way with respect to the institutional capacity building of the Council, particularly its Disaster Preparedness and Emergency Management capabilities."
Mayor Fisher noted that this is a satisfying for the Council. "We drafted the proposals and we were elated when the Japanese Government advised us of its approval. The Japanese have had a close relationship with Jamaica and, especially, the Local Authorities. We are pleased with this development and look forward to the deepening of our relationship with the Government and people of Japan."
The Government of Japan last donated two ambulances and two fire trucks to the Westmoreland Parish Council in December, 2014.