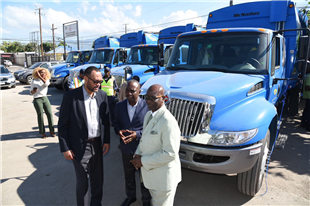 KINGSTON, Jamaica: The operational capacity of the National Solid Waste Management Authority (NSWMA) has been boosted with an injection of 11 new compactor trucks.
The trucks, which are valued at some US$1.75 million, swell the number of new units handed over to the garbage collection and disposal entity in the last three years to 42.
"The Government is cognizant of the need to increase the stock of the National Solid Waste Management Authority. We have made significant investments in the Authority and will continue to do so, as a lot more will be done," said Honourable Desmond McKenzie.
The Minister of Local Government and Community Development was speaking during a handover ceremony for the new units on Tuesday (February 19, 2019).
The Metropolitan Parks and Markets will receive four of the units; three has been deployed to the Western Parks and Markets; and the Southern Parks and Markets and North East Parks and Markets will receive two each.
Minister McKenzie also underlined the need for amended legislation to ensure that persons adhere to their civic responsibilities given the nuisances of littering and the burning of garbage.
"I am really concerned about the level of indiscipline in this country by persons who can do better. I am calling on well-thinking Jamaicans to join the crusade to make Jamaica cleaner."
To strengthen this call to action, the NSWMA will be undertaking an islandwide public education campaign targeting schools, communities through town hall meetings and media messaging among other strategies.
During the 2019/2020 fiscal year, an additional 100 trucks will be leased and placed in the services of the NSWMA to further augment its operational capacity.
"I want us to deploy the trucks in a way that we will start to see the result of increased resources…have them washed and cleaned to maintain pride and dignity," Minister McKenzie advised NSWMA workers.  "Take pride in your duties and remember to consider yourself as a critical stakeholder in the development of this country."