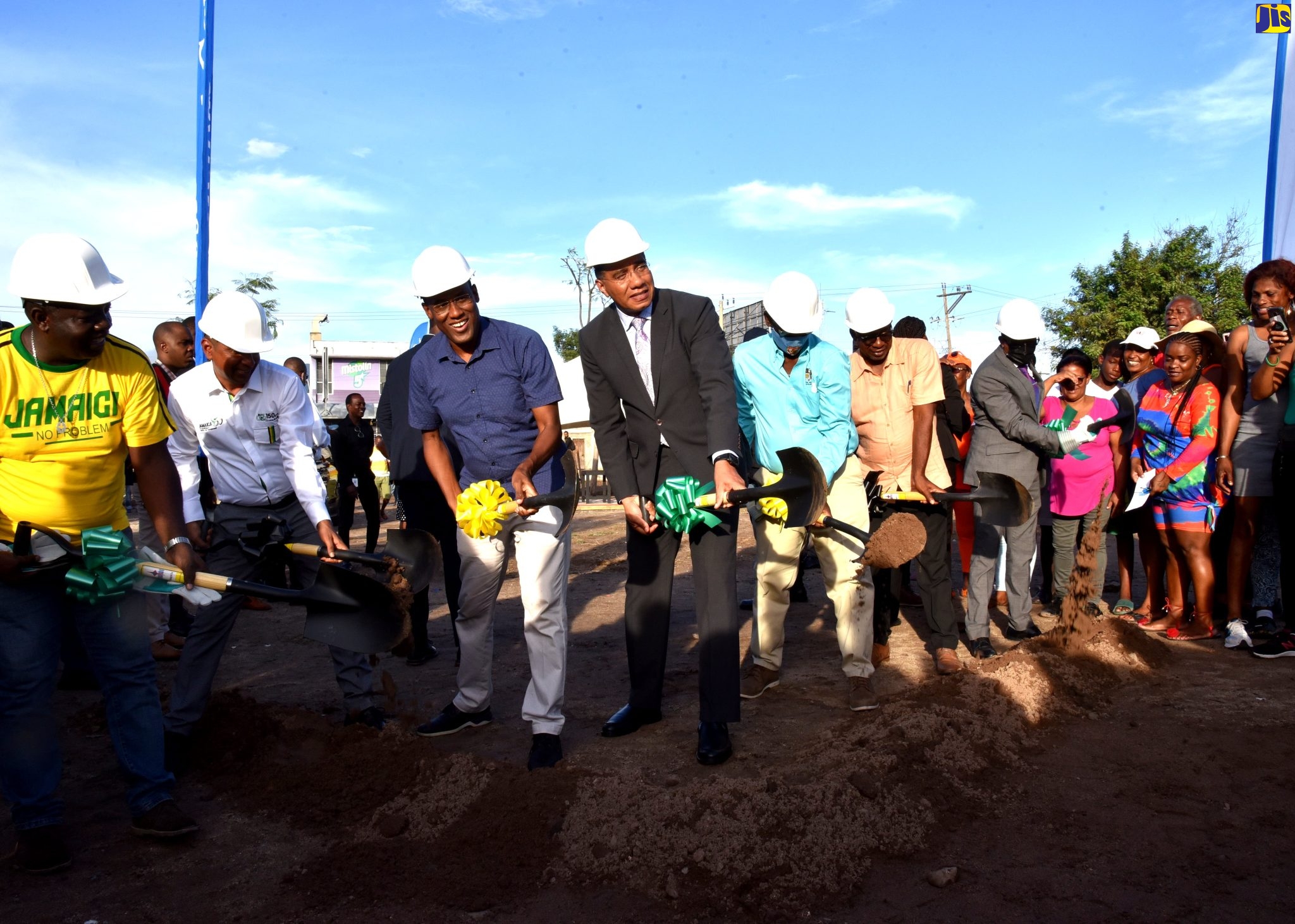 Multimillion-dollar Park to bring pride to Maverley
KINGSTON, Jamaica (Jamaica Observer): RESIDENTS of Maverley in St Andrew on Tuesday (August 23) watched with excitement as Prime Minister Andrew Holness and other members of central and local government broke ground for a multimillion-dollar park in the community.
PM Holness and Minister of Finance Nigel Clarke, who is the Member of Parliament for St Andrew North Western in which Maverley is located, as well as Minister of Local Government and Rural Development, Desmond McKenzie, were tight-lipped about the cost of the project, but they declared that they were sure it will be a source of pride for residents and the people of surrounding communities.
The park will be constructed on an open lot at the corner of Molynes Road and West Main Drive. This run-down lot, owned by the Kingston and St Andrew Municipal Corporation (KSAMC), has been used over many years to host church services and other activities or as a bypass for pedestrians heading into or leaving Maverley via Molynes Road.
Minister McKenzie told the Jamaica Observer that the project is part of the Government's community renewal programme that started in 2016. He said the Maverley Park will be one of the largest public parks built by the Government.
"We have done about 11 parks already across the country, and we have about 16 that are lined up to be done. This is one of the largest that we will be undertaking. What it will do is restore community pride and allow the people to have a place they can go hang out and feel free. The park will be equipped with Internet, bathroom, and toilet facilities. It is going to be a comprehensive facility with canteen facilities and a walking trail. It will be outstanding and should be finished hopefully in the next 12 months. The procurement process is almost complete, so once that is completed, we are going to move to the next phase," said McKenzie.
In the meantime, PM Holness pointed to the importance of the project as he highlighted that not many safe spaces exist for residents of Corporate Area communities to express themselves and exercise. He encouraged the residents of Maverley to help maintain the facilities and appealed to the KSAMC to ensure adequate security is in place at all times.