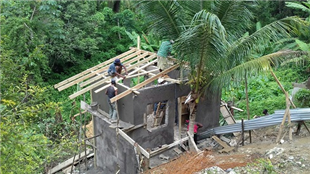 New Building Act in effect
KINGSTON, Jamaica: A new Building Act with a modern legislative framework that will serve to reduce the vulnerability of Jamaica's built environment and ensure public safety, is now in effect.
The Building Act 2018 came into force on January 15 and repeals the Kingston and St. Andrew Building Act and the Parish Councils Building Act.
"The Act is critical to the effort to prevent new squatter settlements from being built, promote sustainable development, establish and enforce internationally-accepted building standards and rules for individuals and entities providing construction material and services," said Minister of Local Government and Community Development, Honourable Desmond McKenzie.
"The Ministry through all the local authorities as building authorities as well as the Bureau of Standards and regulatory and appeals tribunals established through the Act will be enforcing its provisions rigorously."
The Minister was addressing the Office of Disaster Preparedness and Emergency Management's Earthquake and Tsunami Awareness Campaign 2019 press conference on January 14.
He explained that the enforcement measures will not only apply to persons and companies who are building structures; but also those who occupy and otherwise use structures.
"Section 48 to 58 of the Building Act give the Local Authorities clear powers to intervene through Emergency Orders to stop the dangerous use of land as well as to require owners to repair buildings certified as dangerous structures."
According to Minister McKenzie, the new legislation is part of Government's thrust for the country to be more disaster-resilient.
"The logic is very simple, in the event of an earthquake, better buildings in properly planned and approved location, improve the chances of people's survival," he added.
The Building Act 2018 also facilitates the adoption and efficient application of the National Building Code of Jamaica. It also regulates building work and change of building use by requiring permits so as to protect public safety and public health and other public interest considerations.
It also will see the establishment of a building practitioners' board; identifying and appointing a registrar; developing standard operating procedures and guidelines for the operation of the registrar; establishing a building advisory council and building appeal tribunal.
The Minister with portfolio responsibility will be able to review the Act's operation and effectiveness, three years from the appointed day.