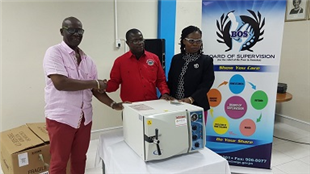 Infirmaries furnished with autoclaves -Equipment funded by NHF
KINGSTON, Jamaica: The country's infirmaries are now equipped with medical autoclaves as the Ministry of Local Government and Community Development's intensifies its mandate to improve the care of residents in state care.
Twelve medical autoclaves were procured for the Ministry, through financing from the National Health Fund (NHF), at a cost of $5.025 million.
All infirmaries, with the exception of the Vineyard Town Golden Age Home, were without this piece of sterilizing equipment used mainly in wound care and reduces the likelihood of cross-contamination of germs.
"I am not going to rest inti all the needs of our people are addressed," said Honourable Desmond McKenzie, Portfolio Minister, during the official handover ceremony on Friday, May 3.
"I am also committing that by the end of this year, all our infirmaries would been fitted with close circuit television, improved security, all the standby generators would have been installed."
Minister McKenzie noted that the NHF is an integral partner in lifting the quality of lives at the infirmaries.
Chief Executive Officer at the NHF, Mr. Everton Anderson, lauded the Ministry of Local Government and Community Development's project for the autoclaves.
"It is a good project and we embraced it because it really raises the bar in our line of work," he shared.  "I have been to so many infirmaries and the work that is being done is tremendous. For the most part the care that is given is very good."
The NHF has also partnered with the infirmaries on social improvement projects and pharmaceutical care for its residents.
Minister McKenzie also disclosed during the ceremony at the Ministry's Offices that all infirmaries will be retrofitted with closed circuit television; improved security, mattresses as well as industrial washers and dryers by the end of the 2019/2020 fiscal year.