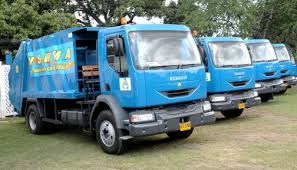 NSWMA to get j$250 million this fiscal year to purchase new garbage trucks
Special focus is to be placed on improving the operational capacity of the National Solid Waste Management Authority (NSWMA), and strongly enhancing its structures of fiscal and ethical governance in this Parliamentary Year. This was announced a short while ago by Governor-General Sir Patrick Allen, during his address at the State Opening of Parliament.
The Governor-General reveals the Government's programme and policy emphases at the beginning of each Parliamentary Year.
In acknowledging that the management of waste in major towns and communities
across Jamaica has led to serious infestations, the Governor-General announced that "Two hundred and fifty million dollars has been provided in the Budget to purchase additional waste disposal trucks. The NSWMA has also identified four priority areas for immediate action regarding the management of the Authority and the Riverton Disposal Site."
These priorities are:
The enhancement of the speed with which contemporary financial controls are implemented, to ensure accountability, efficiency and compliance with all standards of financial reporting and the requirements of all statutes governing the Authority.
The enhancement of the Authority's levels of service delivery, with special emphasis on its waste collection and waste disposal responsibilities.
The completion of ongoing consultations with the National Environment and Planning Agency (NEPA), and the satisfaction of compliance requirements in order to obtain and maintain environmental certification for the operation of Riverton, as well as the other Disposal Sites managed by the NSWMA.
The improvement in the security of the Riverton Disposal Site through the addition of electronic surveillance mechanisms to the system of patrols, which help to prevent unauthorised access to the facility.
Sir Patrick stated that these efforts will help to address some of the major concerns raised in the recent Investigative Report into the operations of the Agency by the Public Defender.
In declaring that there is an urgent need to restore public confidence in national institutions and institutions of Government, the Governor-General stated that the new Administration will be accelerating efforts to strengthen public sector efficiency and responsiveness.
With that in mind, he stated that in this fiscal year, the Government will drive the growth and job creation agenda through eleven specific portals, including the Implementation of reforms to the Development Applications Process, for which the Ministry of Local Government and Community Development is responsible.