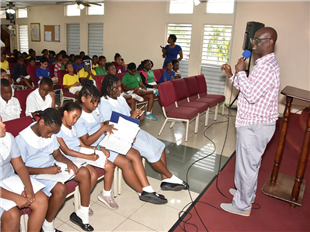 PEP talk on local government
KINGSTON, JAMAICA – Fifth and sixth graders at Emmanuel Christian Academy, who will be sitting the Primary Exit Profile (PEP) exam early next week, got an introductory talk on the role of Local Government " straight from the source " in the person of Hon. Desmond McKenzie, Minister of Local Government and Community Development.
Speaking at the school on Thursday (April 11, 2019), Minister McKenzie outlined the roles and functions of the ministry as a whole as well as those of the affiliate Agencies, the Local Authorities and the elected representatives. He zoomed in on the role of the Fire Brigade, and impressed upon the students the importance of fire safety practices at home, at schools and other buildings. Special interest was shown by both students and directors in the Building Approval process as a new church is being built adjacent to the school, and this was, of course, subject to approval.
Minister McKenzie also spoke to the maintenance of gullies and drains and the sanitation and garbage collection systems, another point of interest given the gully nearby the school.
The Primary Exit Profile (PEP) is the series of tests designed to replace the Grade Six Achievement Test ( GSAT) as the national secondary school entrance exam.