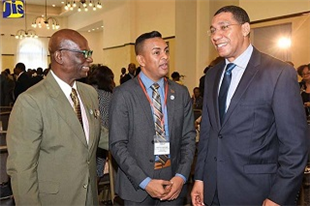 PM Recommends Training For Community Members As Disaster First Responders
MONTEGO BAY, July 18 (JIS): Prime Minister, the Most Hon. Andrew Holness, is recommending that community members be trained as disaster first responders.

Addressing the Ministry of Local Government and Community Development's Local Governance Conference in Montego Bay on July 17, 2018; Mr. Holness also challenged the island's municipal corporations to train their staff in disaster management.
"If the corporations require assistance, they should collaborate with existing bodies, such as the Housing, Opportunity, Production and Employment (HOPE) programme to get training to equip young people in communities to assist in times of natural or man-made disasters," the Prime Minister suggested.
Mr. Holness, who is also Chairman of the National Disaster Risk Management Council, said this will help the country to be better prepared to tackle the frequency and intensity of disasters, which can destabilise the economy.
"Local government has so much to do with preparing the minds of the citizens as it relates to natural disasters. A big part of this preparedness is training coordinators to re-culture how citizens operate, which includes getting people not to live in gully courses and on river banks," the Prime Minister said.
"There is nothing more powerful than the councillor explaining to them (citizens) the dangers they face when they do things that could create disaster risks, and having locally structured programmes to facilitate their movement and prevent and lower these risks," he added.
Meanwhile, Local Government and Community Development Minister, Hon. Desmond McKenzie, said it is his desire to see noticeable improvements in disaster risk reduction, mitigation and resilience modalities in all municipal corporations.
The Minister said he also welcomes the recommendations made by Prime Minister Holness.
Mr. McKenzie noted that the conference is a precursor to the regional conference on disaster management and risk reduction to be held in July 2020.