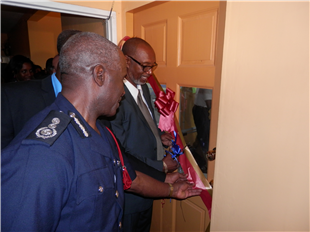 Portmore Fire Station Resource and Outreach Centre Officially Opened
The Honorable Colin Fagan, Minister of State in the Ministry of Local Government and Community Development, last week, delivered on his commitment to have the Portmore Fire Station house the pilot for a Resource and Outreach Programme, which will seek to transform fire stations across the island. The official opening ceremony which was held at the Portmore Fire Station on Thursday, May 1, was well attended by residents of Portmore and representatives from the various stakeholder groups.
This project was realized through collaboration between the Ministry of Local Government and Community Development, the Jamaica Fire Brigade, the Social Development Commission, community volunteers, and the Universal Service Fund. The collaborative efforts between these entities saw the provision of twenty (20) computers, other technology learning devices, corresponding software, internet service and internal adjustments to the Portmore Fire Station, located in Waterford. The Centre is expected to:
Provide skills training to community and development area members
Improve literacy, computer skills and over all academic performance for young people in the community.
Utilize technology as a tool to foster educational development with lifelong (adult) learning.
Facilitate access to the internet and communication by residents.
The State Minister, in his main address at the function, urged residents to use the Centre with caution, while taking advantage of the opportunities that the Centre provides, as it was established with the aim of improving the lives of residents in and around Portmore. The Portmore Resource and Outreach Centre is a pilot project that is expected to be a leading example of community development initiatives that will be adopted and replicated around the island.