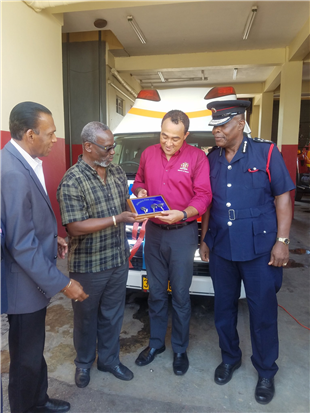 Portmore gets Emergency Medical Service
PORTMORE, St. Catherine: The municipality of Portmore in St. Catherine now boasts an Emergency Medical Service (EMS), sited at the Waterford Fire Station.
"I am confident that we will deliver the kind of service that will meet the needs of the people. What we have here today is a continuation of a collective approach by this administration for local governance," said Local Government and Community Development Minister, Honourable Desmond McKenzie.
Minister McKenzie was speaking at the official launch of the Portmore EMS on Friday (September 15, 2017).
The EMS, which will have the use of two ambulances that were acquired at a cost of $17.2 million through funding from the National Health Fund (NHF) and the Culture, Health, Arts, Sports, Education (CHASE) Fund. It will be staffed by members of the Jamaica Fire Brigade, who received special training at the University of the West Indies Mona Faculty of Medicine.
"The Government is committed to providing the requisite services so that our firefighters can respond to calls of emergency," he said in thanking the partners for their involvement in the project.
Health Minister, Dr. the Honourable Christopher Tufton, described the launch as "a momentous occasion".
According to him, the Portmore EMS represents coordination, collaboration and cooperation between agencies of Government, and creating more mobile firs
"This service underscores how critical it is for partnerships to cooperate to achieving national development. By creating more mobile first responders, we are improving point of care to communities."
Deputy Mayor of Portmore, Councillor Alrick Campbell, in his greetings expressed gratitude on behalf of the residents of the municipality.
"The general public can now call on the services of an ambulance and for that we are grateful."
An Emergency Medical Services is also known as an ambulance service or paramedic service. It provides out-of-hospital medical care; transport to healthcare facilities and other medical transport to patients.