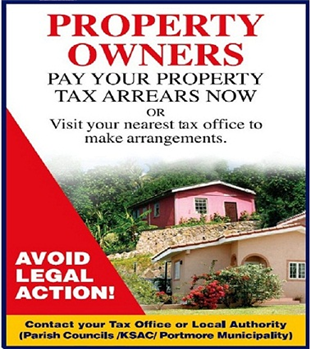 Property Tax Regional Managers Meet to Review Collection & Compliance Efforts
-Special enforcement task force to be set up to boost collections
In its continued quest to boost compliance and collections of property taxes for the fiscal year, the Ministry of Local Government hosted a meeting of its property tax regional managers yesterday, Thursday September 13, 2012 to examine the areas of weaknesses, asses the shortfall in collections and to identify measures and strategies to improve performance.
This is against the background of the realization of just 52 per cent of the targeted collection at the end of August which is some 14 percentage points below the projected . The parishes of Trelawny and Clarendon registered the lowest collection rates of 46 & 47 per cent respectively. The projected collection amount is $3billion dollars with current obligations accounting for $2billion and arrears at $1billion.
Hanover was the only parish to have recorded collection above sixty percent (60%) with a collection rate of 62 per cent for the period followed by KSAC with a 57 per cent collection rate and Portmore with 55 per cent.
Chief among the measures arrived at to improve the situation  during the discussions was  the deployment of a Special Enforcement Team in each of the four regions which becomes operational October 1, and will run until the end of the fiscal year March 2013. The team is mandated to target on a parish-by-parish basis 'consistent delinquent' property owners.
Other measures will include:
·         A public education campaign
·         Strengthened collaborative effort between the parish councils and the Tax Administration department to increase the number of compliance officers
·         The establishment of Saturday Out-Stations at key locations
·         The issuing of reminders
The regional managers were required to make presentations on their respective portfolios and outline the reasons for the shortfall as well as identify strategies for improving same.
Property taxes is one of the main sources of revenues for the island's fourteen local authorities and is mainly utilized for solid waste disposal and collection, street lights and community beautification.