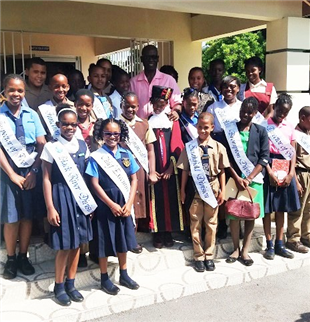 Shaney Byfield robed new Junior Mayor of Black River
KINGSTON, Jamaica: Shaney Byfield of Bethlehem All Age School in Malvern, St. Elizabeth is the 2017/2018 Junior Mayor of Black River.

She was officially robed by Minister of Local Government and Community Development, Honourable Desmond McKenzie, during a ceremony at the St. Elizabeth Municipal Corporation Chambers on Friday, November 10, 2017.
Junior Mayor Byfield was selected from among 14 other Junior Councillors who will make up the St. Elizabeth Junior Council.
"Early exposure to the political process is one that should be cherished and we should look to improve the process," Minister McKenzie said in his main address.
"If we want to harness the talents of these young people and encourage them to become leaders of tomorrow, then we must start to demonstrate that we are setting the right standards for them."
The Minister also charged his senior political colleagues to remove political divisiveness, and strive for credibility and transparency.
Junior Mayor Byfield in her maiden presentation thanked her teachers for their support. She also identified the construction of a music room at her school as her divisional project.
According to the youngster, the new area will provide storage for some new musical equipment – currently being housed in the school library – that was donated by past students. She explained that music forms part of the curriculum at Bethlehem All Age and is also used as a learning aid by her teachers.
The Ministry of Local Government and Community Development, for the second consecutive year, has committed a grant of J$500,000 to each Junior Council to undertake a major project within their respective municipality across the island.  The Ministry is also observing the month of November as Local Government and Community Month under the theme 'Local Governance…The Pathway to Securing Better Communities'.
Floyd Green, State Minister in the Ministry of Education, Youth and Information and Member of Parliament for South Western St. Elizabeth, lauded the Junior Mayor initiative. He noted that he will be meeting with the Junior Councillors in his constituency to see how he can partner with them on community projects.
"This programme gives children a voice and allows them to take charge," he stated. "Senior Councillors should not only mentor them but allow the young ones to mentor them as well because they can also teach us a lot."