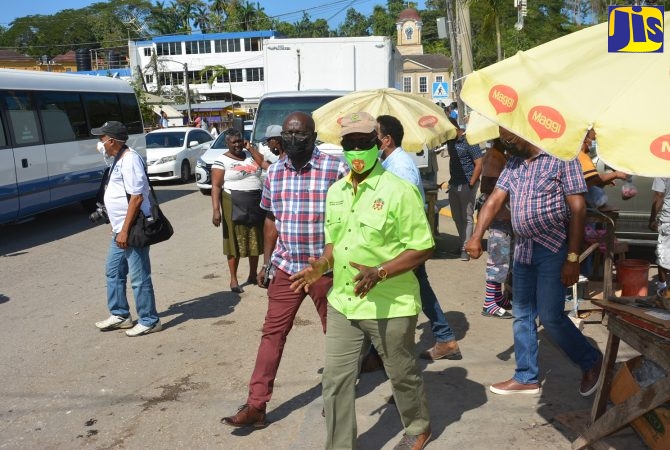 Spruce up for Lucea and Hopewell – Hanover towns to benefit from the 'Paint The City' Initiative
LUCEA, Hanover: The rural townships of Lucea and Hopewell in Hanover are to benefit from the Government's $300 million 'Paint the City' project that is being spearheaded by the Ministry of Local Government and Rural Development.
Hanover is among five parishes participating in the project aimed at generating employment through beautification, mural painting, street sign installation and improvements to selected markets.
"For Lucea, it will entail painting of the transportation centre; painting of the stalls in the market; painting the exterior of the market; painting the walls, and painting the police station and post office," said Minister Desmond McKenzie during a press briefing in the western town on Friday, January 21,2022.
"We are going to put in a recreational park just in front of the Hanover Municipal Corporation building and give the place a facelift, so it can lift the spirits of the people and give some energy and life to the town."
The beautification project, which was announced by the Minister of Finance and the Public Service during the 2021/2022 Budget Debate, forms a part of the Government's plan to drive the development of rural Jamaica and is to be executed over a three-year period.
"Rural development cannot be done overnight. We have to know what it is we are up against, and that is why it is important that we conduct the surveys and then move in to do the development over a period of time," stated Minister McKenzie.
"This project represents the effort of the Government to put our people to actual, productive work. It is about generating hope through increased employment as we pull free from the grip of the pandemic, and restore activity, life, and vigour to our towns and parish capitals."
The town of Hopewell will see improved sidewalks and murals to complement an  ongoing multi-million rehabilitation of its market.
The Minister also disclosed that the plans are being explored to alleviate thetraffic congestion in Lucea.
"We are also looking at converting the one-way in Sir Alexander Bustamante Square into two lanes of traffic as a means of alleviating the traffic congestion in the town of Lucea," he noted. "I want to use the opportunity to urge the residents of Lucea to be a little patient with us. What we are doing is going to take some time, but for now there are some low-hanging fruits that we can pick."