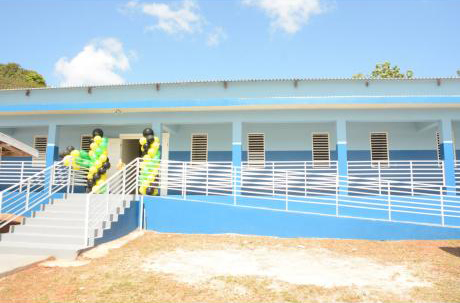 St. James Infirmary gets new J$45m male ward
The St. James Infirmary now boasts a new male ward built at a cost of J$45 million through a joint venture between the National Housing Trust and the St. James Municipal Corporation.
The new addition, which will house 40 residents, was officially opened by Honourable Desmond McKenzie, Minister of Local Government and Rural Development during a special ceremony at the facility on February 15.
The Minister shared that the Government has spent more than J$1 billion to date improving facilities for the country's most vulnerable citizens through its infirmaries and homeless shelters.
"Improving the conditions of the less fortunate must become a priority of the Government, [and] all infirmaries in Jamaica, under this Administration, have received significant benefits."
He commended the technical team who directed the ward's construction and described the design as "really wonderful".
Minister McKenzie posited that the focus will now shift to the construction of a new kitchen and dining hall at the St. James Infirmary.
The Ministry also provided a tranche of J$11m to outfit the new ward with furniture including beds and other items such as appliances, medical equipment, stand aids, and appliances. The new ward is also equipped with a dormitory; a doctor's office, physiotherapy room, shower room, and bathroom.
Last November, a therapeutic park was commissioned at the Infirmary located in Albion, Montego Bay. The park boasts recreational spaces, a mural and a water fountain.
Mayor of Montego Bay and Chairman of the St. James Municipal Corporation, Councillor Leeroy Williams, said the construction of the new ward reflected the Infirmary's growth through improved operations and service delivery.
"In the near future, we will see the construction of a new female ward, and as we continue to grow, we will not leave the vulnerable behind. This modern facility will be a beacon of hope and will boast the spirits of residents and their families, while also improving the work and morale of the caregivers," he noted.