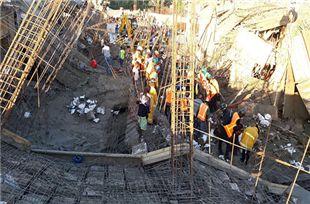 STOP ORDER ON ROYALTON HOTEL PROJECT CONDITIONALLY LIFTED
Minister of Local Government and Community Development, Desmond McKenzie, has announced the conditional lifting of the 30-day Stop Order on sections of the Blue Diamond Royalton Negril hotel project in Hanover. 
The Order was imposed by the Hanover Parish Council on May 10.
This is in keeping with the recommendation of the three-member Review Committee he had established, that works found to be structurally sound should be allowed to continue, once the developers provide a written commitment to comply with the building code. In this regard, the Committee found that that all the buildings, except the one that collapsed, were structurally sound.
The Stop Order remains in force, however, for the section that collapsed, as had been recommended by the Committee. In its Report, it advised that that the developers should address 12 specific issues at the project site before any order is given for work to proceed on the structure that collapsed, injuring five workers. "They (Royalton) have to accept and give timelines as to how they will adhere to the recommendations of the Committee."