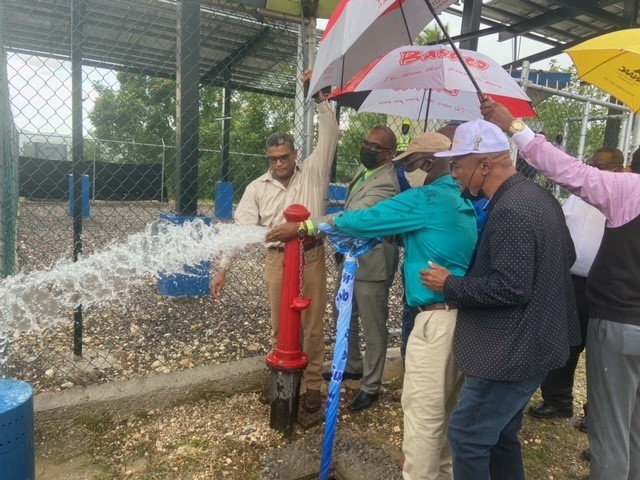 Top Aberdeen gets water supply project
The community of Top Aberdeen and in North East St. Elizabeth now boast its own reliable supply of piped, potable water.
The J$111 million water supply project was handed over to the community by the Rural Water Supply Limited – an agency of the Ministry of Local Government and Rural Development – during a ceremony on February 3.
Portfolio Minister, Honourable Desmond McKenzie described the initiative as another tangible marker of the Government's commitment to improve living standards by ensuring access to basic utilities.
"It reflects our recognition that all Jamaicans, not only those in our two cities and town centres, need this access to improve their own lives in the pursuit of prosperity. It is also one of the major projects implemented since the Ministry was reshaped as the Ministry of Local Government and Rural Development in the last financial year," he said during the commissioning of the Top Aberdeen Water Supply Project.
"A pumping station has been built. New distribution and transmission pipelines have been installed. A new water storage tank has been constructed. To reduce operational costs and improve efficiency, a solar pumping system has been installed. All of this has been done at a cost of J$111 million, and over 1,600 residents of Top Aberdeen will benefit from this project."
The St. Elizabeth Municipal Corporation will be the custodian of the facility. Residents must apply to the National Water Commission (NWC) for the connection of the water supply to their homes.
Member of Parliament for North East St. Elizabeth, Delroy Sloley, has encouraged residents to sign up for their supply in short order with the NWC, which will grant a 50 per cent discount on connection fees to the first 50 residents who apply.
Minister McKenzie also stated that his Ministry is committed to the implementation of projects and programmes to expand minor water supply across Jamaica, in keeping with its responsibilities under the National Water Sector Policy and Implementation Plan.
"The Top Aberdeen Water Supply project is one important component of the work scheduled for this financial year under the Rural Development Programme. A total of $325 million was allocated to provide water solutions, including water shops, for a range of communities across six parishes (St. Catherine, St. Ann, Clarendon, St. Elizabeth, Portland, and St. James), and while the pace of work has been affected by COVID-19, we are determined to deliver."