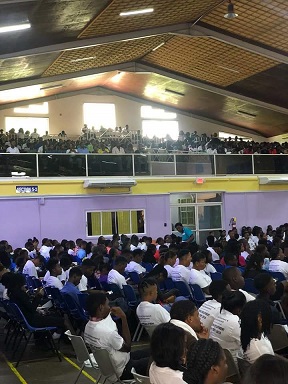 Youth Summer Employment Programme widens base for 2018 roll-out
The Ministry of Local Government and Community Development rolled out its Youth Summer Employment Programme (YSEP) for a second consecutive year and will employ approximately 3590 participants.
"Under YSEP, the selected young people will be among other things, conducting audits, including night audits, of the country's network of streetlights. They will be visiting communities to identify the full extent of our vulnerable population, so we can more efficiently deliver care to our indoor and outdoor poor under the Social Protection Programme," said Honourable Desmond McKenzie, Portfolio Minister.
The YSEP, which is implemented through the Municipal Corporations, seeks to utilize data collection, support administrative processes as well as the distribution of critical information to improve service delivery and ensure greater efficiency in the functions of the Ministry and its affiliated agencies. It will run from August 13 to September 18, 2018.
Last year, just under 2500 young people benefitted from the programme.
A new component focused on Disaster Risk Reduction has been introduced for this year. Participants will undertake Risk Assessment and Vulnerability Exercise (RAVE) as part of a joint initiative between the Ministry and the Office of Disaster Preparedness and Emergency Management (ODPEM).
"They will be also helping to determine the points of physical vulnerability in communities, in the context of helping the people of those communities to develop and increase their resilience across the range of disasters from drought to hurricanes," explained Minister McKenzie.
State Minister in the Ministry of Education, Youth and Information, Honourable Floyd Green, gave the keynote address during the 2018 launch ceremony at the Northern Caribbean University (NCU) Gymnatorium in Mandeville on August 9, 2018.  He designated the YSEP as being "action in motion" and thanked Minister McKenzie and the Ministry for crafting and seeing the programme to fruition.
"It is important that as a government, any additional resources we come across, that we put that into youth development. You and I know that young people just need an opportunity and if they that opportunity they will rise, they will shine and they will make us all proud," Minister Green added.
"This is a significant opportunity that our youth of Jamaica have been given and when you see the crowd here, when you think that almost every single community across Jamaica is represented; you know we are onto something good."
Minister McKenzie noted that the YSEP will also expose the participants – aged 15 to 29 years – to the workings of the Local Government system.
"This is not just about ensuring that young people earn some income. This is also about ensuring that they are exposed to the value of public service and of the ethics and desirability of such things as punctuality, of doing accurate and thorough work, and of a culture of constant learning."