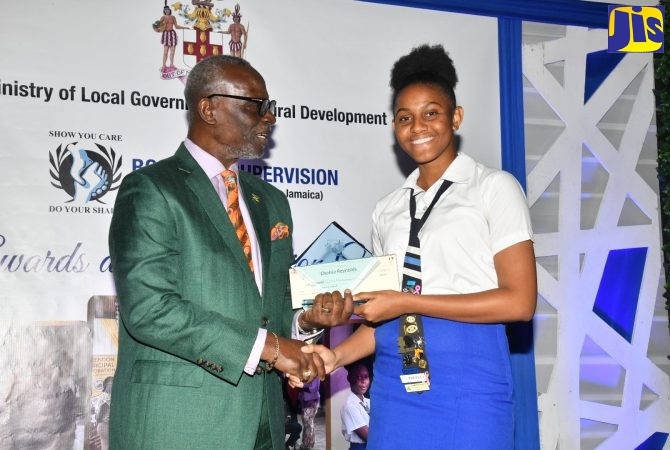 Board of Supervision awards its top students
The Board of Supervision (BOS) recognized 48 students in a special ceremony for high academic performance in the 2022 Primary Exit Profile (PEP), Caribbean Advanced Proficiency Examination (CAPE) and Caribbean Secondary Education Certificate (CSEC) tests.
Each awardee received financial grants ranging from $30,000 to $40,000, with the top achievers in each category getting between $40,000 and $80,000. The students were also presented with plaques and gift baskets.
Additionally, scholarships valued $150,000 each were awarded to students currently enrolled at several local tertiary institutions.
The students were honoured during an awards ceremony recognizing children whose parents are clients of the BOS, at the Spanish Court Hotel in New Kingston on March 29.
Minister of Local Government and Rural Development, Honourable Desmond McKenzie, who has portfolio responsibility for the BOS, said the Government remains committed to ensuring successful outcomes for disadvantaged youth, and increasing financial allocations under the programme.
"We spent over J$2 million on the programme for the last financial year…we have increased the benefits on a yearly basis".
He also used the occasion to commend the staff of the BOS and the Poor Relief Department, whom, he said, work with the children and their families to provide them with access to education.
The Board of Supervision is a statutory body under the Ministry of Local Government and Rural Development.  It was established under the Poor Relief Act to supervise and monitor the delivery of poor relief services through the Municipal Corporations.
Secretary of the BOS, Miss Treka Lewis, in an overview of the programme, shared that the initiative is predicated on the mandate of facilitating equitable development and progress for vulnerable children impacted by poverty.
"This awards ceremony is held to recognize the brilliance and perseverance of the children of the Poor Relief Department who have not used poverty as an excuse but as motivation to create a brighter future," said Miss Lewis.
The programme's Top CSEC Achiever, Chelsia Reynolds, in her remarks, expressed gratitude to the Ministry and affiliated agencies, noting that the initiative is reassurance of their faith in the awardees to achieve future success.
"You believe in our success and are committed to helping each of us achieve a better future," she noted.
Miss Reynolds, who earned two ones and two twos among the subjects she took, urged her fellow recipients to make the most of the opportunity.
"Remember to study hard, work hard, build connections, help your community, and help your society. When you are successful, look back at those who have helped you with gratitude and a sense of civic duty. Let us promise ourselves to do all we can to attain a bright future."