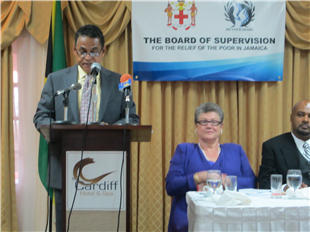 Local Government Recognizes Individuals and Organizations for their work with the Poor
The Board of Supervision (BOS), a department of the Ministry of Local Government and Community Development, held its inaugural Awards and Recognition ceremony on Wednesday March 27, 2013 at the Cardiff Hotel in St Ann's Bay to recognize organizations and individuals who have made significant contribution to its work with the poor in Jamaica.
Minister of Local Government & Community Development the Honourable Noel Arscott, who delivered the main address on behalf of Prime Minister the Most Honourable Portia Simpson Miller, began by stating that the Prime Minister regretted not being able to attend the event as the care and wellbeing of the poor is near and dear to her heart.   The Minister also expressed Mrs Simpson Miller's acknowledgement of the Board of Supervision as an organization which exemplifies one of the main pillars of effective local governance, that is, care, concern and relief of the poor.
He stated that the government was mindful of the needs of the poor and vulnerable in society and these were major considerations in the development of the national economic policy; Adding that we all have a role to play in caring for the poor.
During the ceremony some eighty individuals and organizations were recognized for their roles and were awarded for meritorious, exemplary and invaluable contribution to the work of the Board. Master of Ceremony and Chairman of the Board of the BOS, the Most Hon Professor Denise Eldemire Shearer, said she was pleased to see the staging of an event of this nature as the agency cannot fulfil its mandate without the input of the numerous persons who give of themselves, their time and material to assist the poor. She expressed great hope for the continuation of selfless giving and said that the BOS would endeavour to acknowledge these acts on an annual basis.
The Board of Supervision is a statutory body which was established under the Poor Relief Act to supervise and monitor the delivery of the Poor Relief service performed by the Parish Councils and KSAC. It monitors the provision of residential, socio economic and health care for needy clients as well as the provision of shelter, care and protection for homeless people.