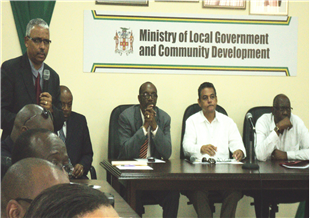 Mayors to assist with Control of Dengue
Representatives from the Ministry of Health met with local government officials on Wednesday October 3, 2012 to discuss a joint approach to addressing public health issues.
The meeting, which including the island's Mayors, was held against the background of rising concerns about a possible Dengue outbreak.
After a presentation on the disease Dr Michael Coombs of the Ministry of health appealed to the local government leaders to use their offices to spread the message about prevention and control of Dengue and other environmental related illnesses.
Meanwhile Local Government Minister Noel Arscott, asked Mayors to emphasise the matter of personal responsibility when speaking to their constituents about public health. "We need to get people to dispose of their garbage properly and to be more conscientious about their environment" he said.
The local government officials were also asked to work closely with their parish public health officers and to use their positions to ensure that services such as garbage collection are efficiently carried out.