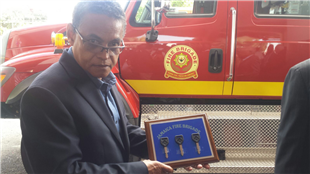 Minister of Local Government commissions new Fire Trucks into service
The capacity of the Jamaica Fire Brigade (JFB) to exercise its primary duties was enhanced recently, with the purchase and commissioning of three fire trucks.
The fire-fighting units, which were commissioned into service on February 4, were acquired by the Brigade from Rosenbaur International after competitive tender, with the funding coming from the 2015/16 Estimates of Expenditure.
The three units, which together, cost US$1.36 million, will be deployed to Kingston, St. Ann and St. James. This acquisition increases the complement of fire trucks available for service island-wide, to thirty-one.
At the Handover ceremony, Minister of Local Government and Community Development Noel Arscott noted that additional units will be required to transform the standing and operational capacity of the Jamaica Fire Brigade to respond to fire calls and related emergency requests across the island. "I want to assure our citizens that the Ministry will continue to equip our fire-fighters through the Fire Safety and Protection Programme, even as we function within a tight fiscal space in compliance with our performance agreements with the International Monetary Fund."
In his remarks, Minister of State, Colin Fagan, who has direct responsibility for the Fire Brigade, declared that the expansion of the functional capacity of the JFB is critical to its ability to transform itself to meet Jamaica's needs as it moves to secure the objectives of Vision 2030 and beyond.
"The repair of existing Fire Stations, the maintenance of an effective network of hydrants, and the provision of safety equipment are basic to this exercise. The Ministry continues to work diligently to secure these and other capacity-building ingredients for the Jamaica Fire Brigade. In the last Financial Year, over 130 fire hydrants were repaired, and this Year, the work has already started to repair 208 hydrants. The objective is to repair over 200 hydrants annually over the next five years."
The State Minister also announced that work is still being done to procure additional Bunker Gear body protection suits for firefighters, and to improve the quality of Fire Stations around the island.